IT'S TIME TO GO SHOPPING!
So you've decided this is the sport for you? We're here to help you get started.
First things first: you've got to look the part, right!
You can purchase our uniform from Comet Sports in Croydon.
​
Kent Mariners caps can be purchased online from Covee.
In baseball, your glove is one of the most important tools you'll need to become a successful player. It's the final piece to that spectacular diving catch in the outfield or what you need to stop that line drive down the third base line.
Not all gloves are created equal in terms of size and material. What size baseball glove you should use largely depends on the position you play, but there are also other factors that help determine exactly which glove you should invest in.
​
​
When buying a glove, there are a few basic terms that have to be defined first:
RHT: Right-handed throw (meaning the player throws with his or her right hand and wears the glove on the left)
LHT: Left-handed throw (meaning the player throws with his or her left hand and wears the glove on the right)
Here are some other factors to consider.
POCKET SIZE: The pocket size of an outfielder's glove is bigger than that of a middle infielder, allowing outfielders to catch fly balls with more ease. Shortstops and second baseman usually have a shallower pocket, which allows them to get the ball out of the glove quicker, especially on double plays.
WEBBING: There are different types of webbing found in gloves for baseball. The type of webbing most common for infielders contains a looser stitch which gives more control in hopes of getting the ball out quicker. Traditionally, there are eight different kinds of webbing to choose from.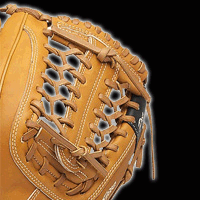 PADDING: Padding preference is another thing to consider. The amount of padding you have on your glove depends on the position you play. Catcher's mitts feature more padding to protect their hands from pitchers' throws. Other positions, such as first and third base, may also need more padding. Recently, the popularity of extra wrist padding has grown, especially at the corner infield positions.
WRIST ADJUSTMENTS: Some gloves are made with wrist adjustments that allow players to make the glove fit snug to their hand, allowing them to put on and take off the glove with ease. These can either be Velcro, a buckle system, laced, or a D-ring fastener.
MATERIALS: Gloves can be made of many different types of materials including leather, synthetic materials, mesh, and treated leather. Leather is the preferred material among players due to their durability and comfort. Players may opt for treated leather gloves which are pre-conditioned with oils for quicker break-in period. Some prefer a mesh backed glove for a lighter glove. For younger players, a synthetic glove is good as it's the lightest and most inexpensive glove available.
Certain positions require a baseball glove with particular webbing. Check out the list below for common webbings you'll find for each position:
Outfielders: H-web, modified trapeze or trapeze — bigger, deeper pockets
Middle infielders: I-web, single post, 2-piece closed — stay shallow
3rd basemen - dual post, modified trapeze, closed webs — stronger, deeper pockets
Pitcher - basket, 2-piece closed, one-piece closed, modified trapeze — conceal stitches when selecting a pitch
When trying to find out how long a glove is, you can look on the thumb or pinky finger and you should see the size etched in the leather there. The sizes range from 8 to 15 inches, and to 35 inches for catcher's mitts. To measure a glove that does not have a size, take a fabric tape measure and measure from the top of the index finger, down along the glove, to the center of the heel of the glove.
CHOOSING THE RIGHT SIZE OF GLOVE
Technology has dramatically changed the way baseball bats have been produced. Bat manufacturers often produce a range of wood, aluminium and composite bats. Only wooden bats are permitted under British Baseball Federation league rules. So which sort of bat do you want?
Characteristics
Less dense, more flex
Grain
Mix of straight grain and oval air pockets
Pros
The "gold standard," larger sweet spot
Cons
Less pop, can delaminate with high usage
Characteristics
Dense, heavier, less flex
Grain
Dense less visible grain, uniform grain
Pros
Strength, doesn't delaminate, more pop
Cons
More expensive, sharp edges when breaks
Characteristics
Hard, strong, with some flex
Grain
Fine uniform grain
Pros
Larger, longer & lighter bat designs, flex with strength
Cons
A newer material, no long-term track record at present
Characteristics
Light, yet very strong
Grain
Laminated sections
Pros
Strong, enviromentally friendly
Cons
A newer material, no long-term track record at present
When you're training and trying to improve your contact, a wood bat is best as they are less forgiving and have a smaller sweet spot. The best wood bat for contact hitting is one that allows you to get greater speed through the zone. Generally speaking, contact hitters typically swing ash bats and power hitters most often use maple bats as the material is the strongest and doesn't have much give. The most common sizes used in BBF Single-A are either 32" or 33". (Many bat sizing charts can be found online.)
EQUIPMENT
(With thanks to Glyn Vinall)